Configure your RM3250ZB
load controller
Learn how to customize your Zigbee
smart load controller
Configure your RM3250ZB load controller
Learn how to customize your Zigbee
smart load controller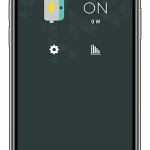 État du contrôleur de charge
Contrôle du conrôleur de charge
Historique de consommation énergétique
Press ON / OFF to activate and deactivate the load.
The graphical representation of the state of the load controller. This is where you can see if the load controller is currently on.
The color of the lightning represents the condition of the load controller.
When the load controller is not in operation, the color of the lightning changes to gray.
This is where you can customize and modify the various settings of the load controller, which are explained to you later.
Energy consumption history
Here you can view the energy consumption graph for this device.
You can find more details on consumption charts in this article:
Customize the load controller display in Neviweb
When you have multiple load controller in one location, it can be handy to rename them or assign them to a particular room.
This feature can be handy if you are using voice assistants like Google Assistant or Alexa.
To do this, you must access the settings by tapping the icon 
on the Neviweb screen of the load controller.
Corresponds to the name that will be given to the device in Neviweb
This selection allows devices to be grouped by room to facilitate identification and management.
Add this device to favorites accessible from the app dashboard
Customize the load controller in Neviweb
Several other configuration settings allow you to control actions that can be physically performed on the load controller, such as locking the keypad and establishing a timer.
Configuration settings (connected to the GT130)
The timer determines the operating time of the device. When the set time has elapsed, the unit is automatically turned off.
Inactive
1 min
2 min
5 min
10 min
15 min
30 min
1 h
2 h
3h
Enable or disable the device's buttons.
Allows to select the device connected to your RM3250ZB load controller to ensure its proper functioning with Éco Sinopé.
Hot water heater
Pool pump
Electric vehicle charger
Other
The wattage featured in this field corresponds to the electrical load connected to the device. This value is automatically read by some devices and is used to assess the energy consumption.
Configuration settings (connected to the Sedna valve)
Action on water leak detection
Closing of the electrical load controller in case of water detection
You can now start programming your smart plug and create automations.